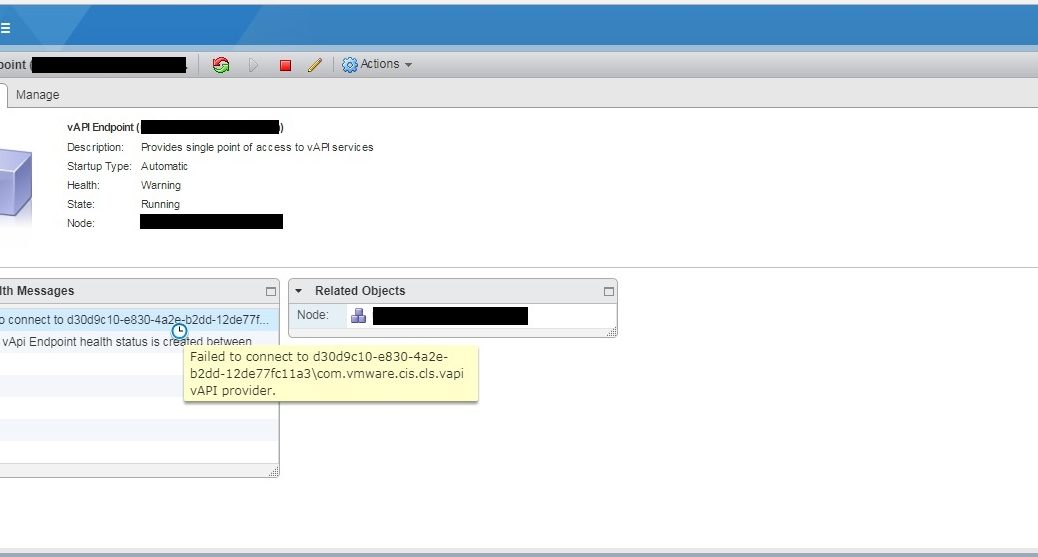 vapi endpoint service yellow – How to fix?
vapi endpoint service yellow – How to fix?
The last days I had an issue with the vapi endpoint service.
This was caused when I recreated the VMCA Solution Certificates with the Certificate Manager. BTW: VMware Support advised me to do so :/
The complete Message was:
"Failed to connect to d30d9c10-e830-4a2e-b2dd-12de77fc11a3\com.vmware.cis.cls.vapi vAPI provider."
Look what other services are affected by this issue and how to fix it.
Also to find under https://myvCenter/vapiendpoint/health
During this service did not run correctly I experienced the following problems:
VCSA Backup is not working (Invalid vCenter Server Status: All required services are not up! Stopped services: 'content-library')
E-Mail Alerts were not send
It sounds very crazy but this has to do with the VMware Content Library Service.
Even I didn't use this Library at the moment, the service could not start when you try it manually through the GUI or via shell on the vcsa.
service-control --start vmware-content-library
In the end, with this VMware KB 2151085 it could be fixed.
You have to re-create content library config. After that you can start the content library service. If this is working fine, you can also restart the vapi endpoint service or the complete vCenter Server if possible.
With a running vapi endpoint service it was possible to run the VCSA Backup. Since a complete vCenter reboot the E-Mails are also working fine again.
My VCSA is Version 6.5 U1 (5973321)